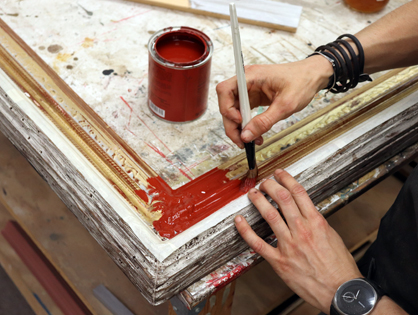 We restore and preserve picture frames of all types, from historical vintage frames to modern masterpieces. Carved, Antique, Modern, Wood, Gesso, Gold Leaf, Silver Leaf, Metal Leaf or Faux Finish. Our experts restore and preserve frames with the highest attention to detail. Frame restoration services include cleaning, stabilization of corners and decorations, fabrication of missing pieces or ornamentation, color-matched in painting, toning and gilding in either true gold leaf or composition metal leaf.
Original fine art can get discolored and dirty over time. Sometimes structural or aesthetic damage happens to an artwork's mounting or substrate. Our professional restorers clean your artwork to try to bring it back to its original condition, as well as repair and prevent further damage to the artwork. Restoring original works of art helps bring back their vibrancy, color and splendor. Let us know if we can help you repair a treasured masterpiece.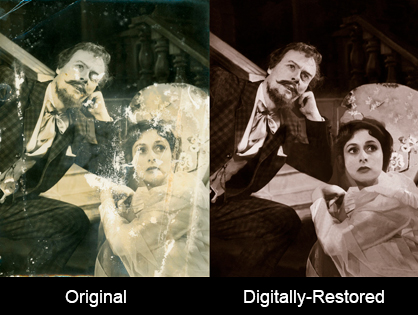 Havens Fine Framing has the ability to scan and edit art that is damaged or destroyed. We can restore art digitally and reproduce an archival version to frame for you. That old one-of-a-kind photo that is torn, scratched, faded, or waterdamaged can now be repaired. Learn more about our digital restoration services »
Sometimes frames fall off the wall or are damaged due to moving or just . . . Life. If you like your frame and don't want to replace it, then allow us to repair it. From simple corner re-joins to glass replacements, we can usually repair most damaged frames.
Learn more about Art & Frame Restoration