Floater frames make the art look like it is "floating" within the frame, instead of being covered by it. Canvases, mounted on stretcher bars, sit neatly on the inside lip, slightly removed from the frame to create a floating effect. Standard picture frames cover the outer edge of your artwork, but these floater frames let you see everything. Floater frames are modern, attractive ways to enhance your decor style while protecting your artwork.
When should I use a Floater Frame?
Solid works on stretched canvas, boards or panels don't necessarily need glass but benefit from additional structural support. Most canvas paintings are mounted or stretched onto wooden bars, which can warp off the wall over time. Floater frames are used when you want the support and stabilization a frame provides in suspension and display, but also want the visual effect of edge-to-edge viewing and minimal frame design.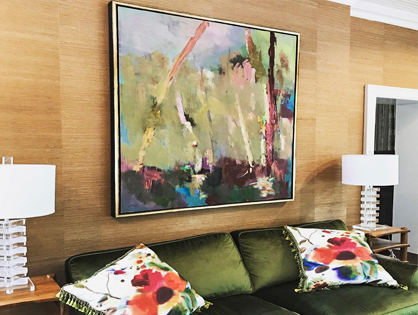 The frameless look is extremely popular in minimalist decor styles, but it doesn't protect your artwork. Float frames provide clean, modern style solutions as well as the structural support that stretched paintings need. We have a wide range of moulding styles.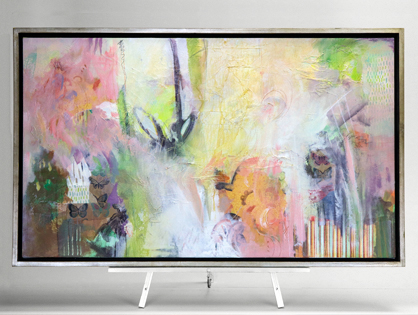 Many stretched canvas paintings have imagery right up to the edge. Signatures or visual details can be lost if a standard frame covers this area. Float frames leave the edges exposed so you can view the whole canvas.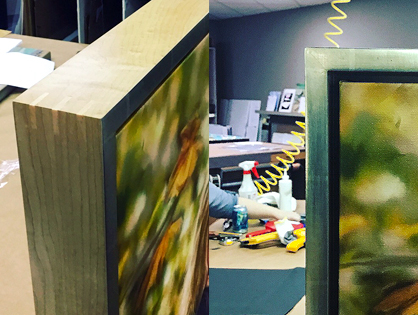 Expertly Fit into the Frame
Your canvas will be mounted professionally within its float frame. Securely crafted frame corners provide support and stabilization, keeping the painting from warping and protecting it from damage.
Stop by the Gallery to view our selection of Floater Frames